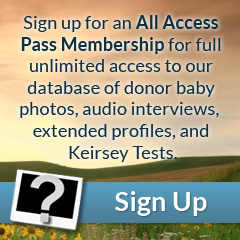 Eyes: Blue
Hair: Red
Height: 5'07"
Weight (lbs): 150
Blood: O Rh+
CMV: +
Ethnicity: Caucasian, English, French, French-Canadian
Jewish Ancestry: No
Education/Occupation: High School / Insurance Agent
Live Birth / Pregnancy Confirmed: No
Extended Testing: Yes
Genetically tested for: View
Fremont has beautiful, shiny red hair and dark-blue eyes that are shaped like almonds. His skin, though fair, can handle sun in moderation. His eyebrows and long eyelashes match the red hair on his head. Fremont has an oval-shaped face, and full red lips. His facial features are all symmetrically placed, making him a handsome addition to our selection of donors.
Fremont loves his family and appreciates the values they instilled in him while growing up. Though young, Fremont has a great head on his shoulders, as he works hard and understands responsibility. He thrives on being self-sufficient and also enjoys caring for others. Fremont is a compassionate, sensitive, and highly intelligent donor that would make a great match for any family.
Genetic Testing
Over the years, we have expanded our genetic testing of donors as genetic knowledge and technology have advanced. As a result, not all donors have been tested for the same conditions or with the same methods. All donors have undergone genetic testing for Cystic Fibrosis, Spinal Muscular Atrophy and Karyotyping.  However, many donors have had more extensive testing performed.
This donor has been evaluated for carrier status of the listed conditions. A negative result reduces, but does not eliminate, the likelihood of the donor being a carrier. If you are a known carrier of a genetic condition please contact us, and we will provide a copy of the donor's test reports to your physician and/or genetic counselor.