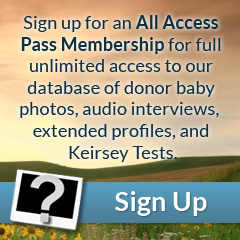 Eyes: Blue/Green
Hair: Light Brown
Height: 6'03"
Weight (lbs): 185
Blood: A Rh-
CMV: -
Ethnicity: Caucasian, Dutch, German
Jewish Ancestry: No
Education/Occupation: B.S. Bio-engineering / Student
Live Birth / Pregnancy Confirmed: No
Extended Testing: No
Genetically tested, and found to be negative, for: View
Gabriel's smile lights up the room and reveals a deep dimple in his left cheek. His light-brown hair matches his thick, neatly separated eyebrows, which sit nicely above almond-shaped green-blue eyes. Gabriel has symmetrical facial features and a strong nose. Standing just over six-feet tall, he is a truly attractive young man.
Gabriel's looks are just the beginning! Highly intelligent, extremely driven, and yet able to relax and have a good time, he possesses all the qualities of a great donor. What stands out most about Gabriel is his sensitivity and capacity for caring for others. He loves his family and is in the donor program because of how much he values family. When asked why he wants to be a donor, he says, "I have seen the joy a child has brought [others], and I hope to provide that same opportunity to other families." An all-around good human being, Gabriel would make a fantastic donor for any family.