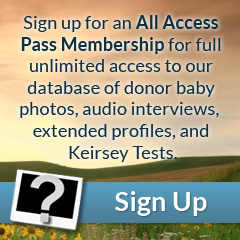 Eyes: Brown
Hair: Black
Height: 6'03"
Weight (lbs): 197
Blood: A Rh+
CMV: +
Ethnicity: African-American
Jewish Ancestry: No
Education/Occupation: B.A. Education / Student/Gym Receptionist
Live Birth / Pregnancy Confirmed: No
Extended Testing: Yes
Genetically tested for: View
We cannot say enough wonderful things about Gavin. He is genuine, polite, caring, athletic and good looking! Gavin always comes in with a smile, exuding optimism and looking for a way to improve our day. He loves to give back to his community and the people in his life. Gavin is currently working on a degree in education so he can become a teacher. He also coaches basketball, a sport he loves and has played since he was a child.
Standing at 6'2" Gavin looks like a basketball player. His height plus his long, well-defined muscles give Gavin the look of a natural athlete. Gavin has large brown eyes and full lips that accentuate his amazingly infectious smile.  He keeps his hair short and is usually clean shaven. He has a very casual style which reflects his easy going personality. Gavin is a truly amazing donor and we are lucky to have him in the program.
Genetic Testing
Over the years, we have expanded our genetic testing of donors as genetic knowledge and technology have advanced. As a result, not all donors have been tested for the same conditions or with the same methods. All donors have undergone genetic testing for Cystic Fibrosis, Spinal Muscular Atrophy and Karyotyping.  However, many donors have had more extensive testing performed.
This donor has been evaluated for carrier status of the listed conditions. A negative result reduces, but does not eliminate, the likelihood of the donor being a carrier. If you are a known carrier of a genetic condition please contact us, and we will provide a copy of the donor's test reports to your physician and/or genetic counselor.
Since this donor is a carrier for 1 or more conditions, we require that you fill out the Informed Consent document found HERE
This consent form needs to be completed and sent to us, prior to shipment.