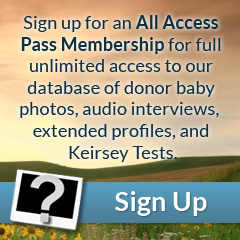 Eyes: Brown
Hair: Dark Brown
Height: 5'08"
Weight (lbs): 165
Blood: O Rh+
CMV: -
Ethnicity: Mix, English, Portuguese
Jewish Ancestry: No
Education/Occupation: M.S. Business / IT Personnel
Live Birth / Pregnancy Confirmed: Yes
Extended Testing: No
Genetically tested for: View
Gideon has a very youthful appearance. He has brown hair and bright inquisitive eyes. He has a light brown skin tone that darkens nicely when tanned. He has full lips that are pinkish red and a killer smile. He has a strong well defined chin and symmetrical features. He is athletic and enjoys playing basketball. Gideon is almost always wearing athletic gear and in particular lycra because he is an avid cyclist.
Gideon is an interesting person because he is equally both an introvert and extrovert. He has an inner confidence that shines outward brilliantly and commands the attention of a room easily. He is intelligent and polite. Overall, Gideon is a pleasure to work with and a very well rounded individual. When we asked him why he wanted to be a donor, Gideon said, "I joined this program after having a co-worker who along with his wife, could not conceive on their own. After a couple years of false hope and many failed procedures, they only recently were allowed to conceive, something they had wanted for a long time. I wanted to be a donor to help others that go through the same situation." His heart is truly in the right place and we think he would make a wonderful donor choice.