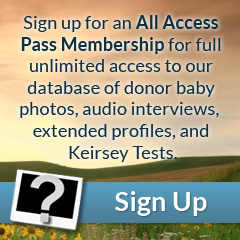 Eyes: Blue/Green
Hair: Dark Brown
Height: 5'07"
Weight (lbs): 155
Blood: A Rh+
CMV: -
Ethnicity: Austro-Hungarian, Caucasian, Lithuanian
Jewish Ancestry: Yes
Education/Occupation: B.S. Biology, M.S. Urban Planning / Parks Planner
Live Birth / Pregnancy Confirmed: No
Extended Testing: Yes
Genetically tested for: View
Glendon's blue-green, almond-shaped eyes—made even more striking with his long lashes—go very well with his dark-brown hair. He has a medium skin tone that takes to sun very nicely. Glendon's handsome face is made all the more attractive with his strong jawline, defined chin, and symmetrical facial features.
Glendon's passion is for the environment and leaving the world a better place than when he arrived. He loves his career in urban planning, and especially loves the Pacific Northwest, as he is an avid hiker, biker, and anything else that means being outdoors. Glendon enjoys exercising but likes to keep it creative by implementing dance into his life. Conscious of the world around him and always striving to make it better for all, Glendon is a great man and a wonderful donor.