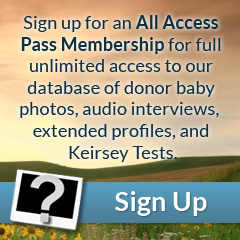 Eyes: Blue
Hair: Dark Brown
Height: 6'00"
Weight (lbs): 165
Blood: AB Rh+
CMV: -
Ethnicity: Caucasian, German, Irish, Italian, Native American
Jewish Ancestry: No
Education/Occupation: BS Business; MS Logistics/International Business / Student
Live Birth / Pregnancy Confirmed: Yes
Extended Testing: No
Genetically tested for: View
This triathlete is in superb physical condition. He also runs marathons and trains regularly. His physique and health are directly reflective of his active and regimented work out and training routines. Not only is he an amazing athlete he is also musically inclined and talented, playing the tuba, trombone, guitar, bass guitar, and drums.
Graham is very good looking, he has vibrant blue eyes, rich dark brown hair, medium tanned skin tone, and a bright white smile. It is easy to see why he is a favorite here at the lab.
Graham is very outgoing and friendly; he is always chatting with the staff and has a very charming and upbeat demeanor.
We asked what his most proud accomplishment has been thus far and he responded, "My proudest accomplishment would have to be finishing the Florida Ironman in my goal time of under 11 hours. It consists of consecutively swimming 2.4 miles, biking 112 miles, and running 26.2 miles. I did this while being a full time student and working full time. After I finished, I knew I could do anything in life that I put my mind to. It made me a much more confident person."