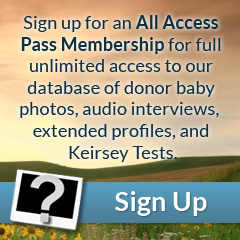 Eyes: Blue
Hair: Light Brown
Height: 6'02"
Weight (lbs): 200
Blood: B Rh+
CMV: +
Ethnicity: Caucasian, Russian, Siberian
Jewish Ancestry: No
Education/Occupation: B.S. Biology
Live Birth / Pregnancy Confirmed: Yes
Extended Testing: No
Genetically tested for: View
Graves icy blue eyes are mesmerizing and easily his most definitive feature. He has light brown hair with flecks of blonde throughout. His features are soft and round yet masculine. Graves is tall and lean with a strong build. He wears dark t-shirts and jeans.
Graves is fluent in several languages and considers both English and Russian to be his mother tongues. He is very intelligent and learns quickly. Graves can be a little quiet, but once he opens up he is very friendly and funny. He loves music and plays several instruments. He is active and tries to spend as much time outside doing new things rather than being cooped up inside. We asked Graves what he was most proud of and he said, "I am most proud of the fact that I have become successful with so many things working against me. I came to this country with absolutely nothing and now am attending one of the best universities in the country in pursuit of becoming a doctor…" We think Graves would make an excellent donor choice!