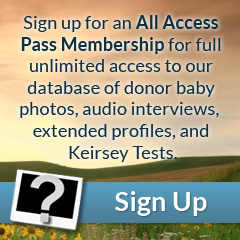 Eyes: Brown
Hair: Brown
Height: 6'00"
Weight (lbs): 185
Blood: A Rh+
CMV: +
Ethnicity: British, Caucasian, Finnish, German, Irish
Jewish Ancestry: No
Education/Occupation: B.S. Aerospace Engineering / Student
Live Birth / Pregnancy Confirmed: Yes
Extended Testing: No
Genetically tested for: View
Griffin has soft rounded features punctuated with a strong chin. He has brown hair flecked with natural blonde highlights that he usually wears at shoulder length and brown eyes that are almond shaped. He has dark pink lips and a smattering of freckles that cover his nose and a bit of his cheeks. Griffin prefers dark colored clothing like t‐shirts and button ups paired with jeans.
Griffin is quiet at first, but opens up very easily. He is laidback and relaxed, yet energetic and humorous. Griffin has a sarcastic and witty sense of humor. He is musically inclined as well and teaches piano and guitar in-between his studies. We asked Griffin what makes him unique and he said, "I've been told the way I carry myself is somewhat unique; kind of in a free manner. I generally have remain detached from mainstream cultural values and have formed my own. I often see the bigger picture in things." If you are looking for a smart, artistic, and funny donor Griffin might be the donor you are looking for!