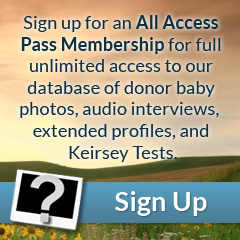 Eyes: Brown/Green
Hair: Brown
Height: 5'07"
Weight (lbs): 136
Blood: A Rh+
CMV: -
Ethnicity: Caucasian, German, Italian, Lithuanian, Russian
Jewish Ancestry: Yes
Education/Occupation: BA Music / Music Teacher
Live Birth / Pregnancy Confirmed: No
Extended Testing: Yes
Genetically tested for: View
Hal has wavy dark hair, an oval face with freckles, a straight nose, and an inviting smile. He is inquisitive, optimistic, and exceptionally artistic and cultured. Most notably, he is a gentle yet outgoing conversationalist with a laid-back and optimistic demeanor. He is an artist who is passionate about studying music theory, composing pieces, and teaching students.
In his free-time, Hal enjoys travel to experience the art and culture across the United States and internationally. He speaks fondly of his family whom he thinks highly, shares most of his interests, and with whom he has a close relationship. With think Hal is a smart, cultured, and creative guy!