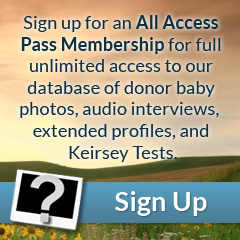 Eyes: Brown
Hair: Light Brown
Height: 6'05"
Weight (lbs): 215
Blood: B Rh+
CMV: -
Ethnicity: Caucasian, Czech, English, German, Irish, Scottish
Jewish Ancestry: No
Education/Occupation: B.A. International Political Economy, Religion and Gender Studies / Rowing Coach
Live Birth / Pregnancy Confirmed: Yes
Extended Testing: Yes
Genetically tested for: View
Hamilton is one of our tallest donors at 6'5". He has strong, broad shoulders, long legs and arms, and a medium to large athletic build. Hamilton's face is best described as caring and smart- he has twinkling brown eyes, a comforting smile, slightly rosy cheeks, and a handsome jawline and forehead. He has wavy, light brown hair and a nice tan.
Hamilton has a kind, soothing voice and always speaks thoughtfully and articulately. He has explored many different interests and studies over the last few years, most notably getting a Master's degree in Sports Education and Coaching, which he uses as a professional Rowing coach. His has a variety of interesting hobbies and activities, including ballet, woodworking, gardening, cooking, and speech. He is also exceptionally well-traveled and cultured. All around, Hamilton is a staff favorite, and if you are looking for someone particularly smart and compassionate, he would be a great choice for you!
Genetic Testing
Over the years, we have expanded our genetic testing of donors as genetic knowledge and technology have advanced. As a result, not all donors have been tested for the same conditions or with the same methods. All donors have undergone genetic testing for Cystic Fibrosis, Spinal Muscular Atrophy and Karyotyping.  However, many donors have had more extensive testing performed.
This donor has been evaluated for carrier status of the listed conditions. A negative result reduces, but does not eliminate, the likelihood of the donor being a carrier. If you are a known carrier of a genetic condition please contact us, and we will provide a copy of the donor's test reports to your physician and/or genetic counselor.