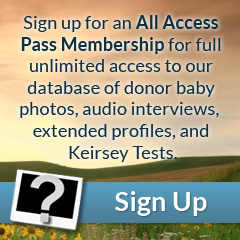 Eyes: Blue
Hair: Blonde
Height: 5'11"
Weight (lbs): 180
Blood: A Rh+
CMV: -
Ethnicity: Caucasian, German, Irish, Scottish
Jewish Ancestry: No
Education/Occupation: A.A. Emergency Medicine Science / EMT, Archival Film Specialist
Live Birth / Pregnancy Confirmed: Yes
Extended Testing: Yes
Genetically tested for: View
Hank's face is especially warm, engaging, and bright, with dazzling bright blue eyes, a huge smile, and rosy cheeks. He has light blonde hair and a fair complexion. He has a medium build, and a seemingly natural ability to stay in shape. His keen eye for men's fashion and thick blonde beard suit his creative and eccentric spirit.
Hank's outgoing personality and impeccable wit are extremely infectious, which makes him one of our favorite donors to interact with in the office. He is definitely the artistic type; he has an avid interest in film, is an amateur landscape photographer, and plays drums in a band. Career wise, he is an EMT, with future plans to go back to school and finish his nursing degree in the near future to be an ER/Trauma nurse. Hank is a smart, funny, and truly entertaining person, and we think all around he is an amazing donor!