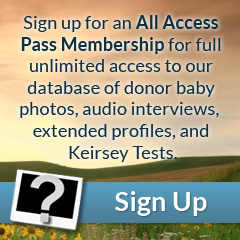 Eyes: Brown
Hair: Black
Height: 6'01"
Weight (lbs): 163
Blood: A Rh+
CMV: +
Ethnicity: Asian, Japanese
Jewish Ancestry: No
Education/Occupation: BS Engineering / Student
Live Birth / Pregnancy Confirmed: No
Extended Testing: Yes
Genetically tested for: View
Haru is tall and has a long, lean frame with long arms and legs. He has thick, dark brown hair, thick eyebrows and eyelashes, smaller eyes, a long, narrow nose, and a long oval face. Haru has a gentle, laid-back demeanor, an amazing smile, and a great sense of humor!
Haru comes off as a little shy with new people, but is super fun to chat with once you get to know him. Haru is following in his family's footsteps and pursuing a degree in Engineering. He is a very dedicated student and highly intelligent. Haru has played many sports throughout his childhood and adulthood, including tennis, basketball, and swim. A fun fact about Haru is that he is fully ambidextrous!
Genetic Testing
Over the years, we have expanded our genetic testing of donors as genetic knowledge and technology have advanced. As a result, not all donors have been tested for the same conditions or with the same methods. All donors have undergone genetic testing for Cystic Fibrosis, Spinal Muscular Atrophy and Karyotyping.  However, many donors have had more extensive testing performed.
This donor has been evaluated for carrier status of the listed conditions. A negative result reduces, but does not eliminate, the likelihood of the donor being a carrier. If you are a known carrier of a genetic condition please contact us, and we will provide a copy of the donor's test reports to your physician and/or genetic counselor.