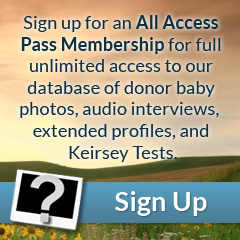 Eyes: Brown
Hair: Black
Height: 6'01"
Weight (lbs): 163
Blood: A Rh+
CMV: +
Ethnicity: Asian, Japanese
Jewish Ancestry: No
Education/Occupation: BS Engineering / Student
Live Birth / Pregnancy Confirmed: No
Extended Testing: Yes
Genetically tested for: View
Haru is tall and has a long, lean frame with long arms and legs. He has thick, dark brown hair, thick eyebrows and eyelashes, smaller eyes, a long, narrow nose, and a long oval face. Haru has a gentle, laid-back demeanor, an amazing smile, and a great sense of humor!
Haru comes off as a little shy with new people, but is super fun to chat with once you get to know him. Haru is following in his family's footsteps and pursuing a degree in Engineering. He is a very dedicated student and highly intelligent. Haru has played many sports throughout his childhood and adulthood, including tennis, basketball, and swim. A fun fact about Haru is that he is fully ambidextrous!