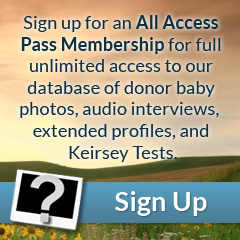 Eyes: Blue/Green
Hair: Light Brown
Height: 5'10"
Weight (lbs): 160
Blood: A Rh+
CMV: -
Ethnicity: Caucasian, Dutch, Norwegian, Polish, Russian
Jewish Ancestry: Yes
Education/Occupation: M.S. Chemical Engineering; M.S. Nursing / Nurse Practioner
Live Birth / Pregnancy Confirmed: Yes
Extended Testing: Yes
Genetically tested for: View
Hobart is one of the kindest, gentlest people we have ever met. His big blue eyes exude comfort and compassion, while his smile makes all feel welcome. Hobart keeps his brown hair short and neat. His eyebrows are a lighter brown and very thick. Hobart has a narrow frame and a lean swimmer's build; he exercises daily, keeping himself in great shape. His facial features are all symmetrical, making Hobart very handsome.
Hobart loves giving to others—his time, his energy, his comfort. As a nurse practitioner he has traveled outside of the United States to do volunteer work and feels it is his duty to help as many people he can, particularly those patients who are otherwise underserved. Hobart adores his family and appreciates the world around him. He is a fantastic donor.