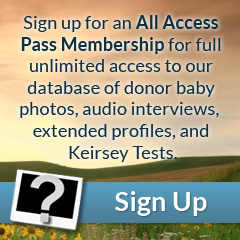 Eyes: Blue
Hair: Brown
Height: 6'01"
Weight (lbs): 170
Blood: A Rh+
CMV: -
Ethnicity: Caucasian, Dutch, English, Italian
Jewish Ancestry: No
Education/Occupation: B.A. History / Information System Engineer
Live Birth / Pregnancy Confirmed: Yes
Extended Testing: Yes
Genetically tested for: View
Hudson is a handsome man with a slim build; medium skin tone; thick, dark hair; well-defined, angular features; and full lips.
Hudson carries himself with confidence and his intelligence is immediately apparent. He is a focused, driven, goal oriented individual with strong leadership skills. Has a very diversified list of interests and expertise; he holds a degree in history and is working on his master's degree in information systems. In his free time, Hudson enjoys outdoor activities such as hiking.