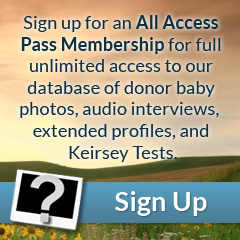 Eyes: Green
Hair: Brown
Height: 6'00"
Weight (lbs): 160
Blood: B Rh+
CMV: -
Ethnicity: Caucasian, English, German, Italian, Native American
Jewish Ancestry: No
Education/Occupation: B.A. Political Science, M.S. Public Health
Live Birth / Pregnancy Confirmed: No
Extended Testing: No
Genetically tested for: View
Hughes has curly dark brown hair and green/brown eyes. He has a medium skin tone that tans nicely. He is tall with a thin yet muscular build and stays physically fit. Hughes is quite attractive and has a wonderful smile.
Hughes is quite bright and intelligent. He has a Masters degree in public health and is currently attending medical school to become a physician. Hughes is polite, hardworking, and laid back. He has a very gentle personality and we can easily see that he will have a great bed side manner as a doctor. When asked to describe his personality Hughes said,"Ambitious, fearless, compassionate, introspective, complex, generous, genuine, fun."