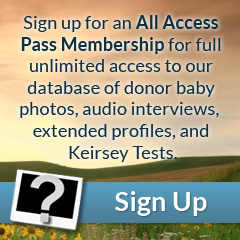 Eyes: Brown
Hair: Brown
Height: 6'00"
Weight (lbs): 160
Blood: O Rh+
CMV: +
Ethnicity: Austrian, Caucasian, English, Irish
Jewish Ancestry: No
Education/Occupation: B.S. Environmental Science / Student; Winery Associate
Live Birth / Pregnancy Confirmed: Yes
Extended Testing: Yes
Genetically tested for: View
Huxley has charming good looks likening to an Old Hollywood movie star. He has a trim cut jawline, high cheekbones, a strong forehead and brow line, and a slender nose. He has striking, deep brown eyes and dark, side swept brown hair. He has a small to medium build, with lean muscles and a solid torso.
Huxley enjoys biking, hiking, snowboarding, and other activities typical of your average Pacific Northwest man. He also is an avid reader, plays multiple musical instruments, and has an enthusiastic interest in photography.  Huxley speaks well of his relationship with his family, and his ability to be friendly and helpful to a wide array of people. We really love Huxley's laid-back attitude, wry sense of humor, and captivating smile. We strongly recommend him as a donor!