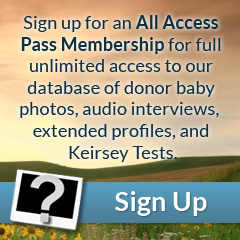 Eyes: Brown
Hair: Brown
Height: 5'04"
Weight (lbs): 155
Blood: O Rh-
CMV: -
Ethnicity: Hispanic, Nicaraguan, Uruguayan
Jewish Ancestry: No
Education/Occupation: Real Estate Agent
Live Birth / Pregnancy Confirmed: Yes
Test Results
Extended Testing: No
Carrier For:

No disease causing mutations detected

Results for Karyotyping / Spinal Muscular Atrophy:
Results with No Disease Causing Mutations: View full list
Donor Description
Ignacio Staff Impression
Ignacio has beautiful wavy dark brown hair and deep brown eyes. He has an
olive skin tone and full brown lips. He has a small cleft in his chin and strong
cheekbones. Ignacio has broad shoulders and a muscular build. He dresses
professionally in button up shirts, trousers, and blazers.
Ignacio is sweet and gentle. He always has a kind word to say or a joke to
tell. He can be quiet but once you get to know him Ignacio opens up easily.
He loves soccer and was a professional soccer player for a while in his
youth. Nowadays he passes on his love of the sport to younger players by
coaching. Ignacio is working towards his goal of running his own business
and moving the rest of his family to the United States. We think Ignacio is
laid back, generous, and kind.