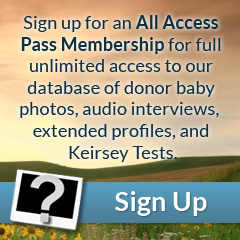 Eyes: Blue
Hair: Blonde
Height: 5'10"
Weight (lbs): 165
Blood: O Rh+
CMV: -
Ethnicity: Caucasian, Danish, German, Scandinavian
Jewish Ancestry: No
Education/Occupation: BA Landscape Architecture / Firefighter
Live Birth / Pregnancy Confirmed: Yes
Extended Testing: Yes
Genetically tested for: View
Jack has a very athletic build, with a broad chest, strong shoulders, and muscular, toned arms. His light brown hair pairs beautifully with his bright blue eyes and smooth, tanned skin tone. Jack keeps fit on the job as a Firefighter, as well as maintaining a highly active lifestyle. He loves fishing, hunting, and hitting the slopes. Jack's charming smile, kind eyes, and bright smile elevate his overall great looks!
Jacks strong, athletic look is balanced well with his enthusiastic, engaging personality. Not only does Jack have a sporty background, but he also excels greatly in math and science. He also is great at drawing, and plays guitar. He is a huge family man, and credits his loving nature to a positive upbringing. Jack is an all-around great guy, and we are excited to have him in the program!
Genetic Testing
Over the years, we have expanded our genetic testing of donors as genetic knowledge and technology have advanced. As a result, not all donors have been tested for the same conditions or with the same methods. All donors have undergone genetic testing for Cystic Fibrosis, Spinal Muscular Atrophy and Karyotyping.  However, many donors have had more extensive testing performed.
This donor has been evaluated for carrier status of the listed conditions. A negative result reduces, but does not eliminate, the likelihood of the donor being a carrier. If you are a known carrier of a genetic condition please contact us, and we will provide a copy of the donor's test reports to your physician and/or genetic counselor.