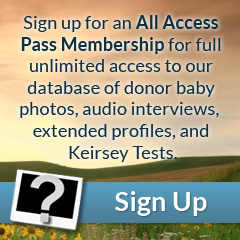 Eyes: Brown
Hair: Black
Height: 5'08"
Weight (lbs): 160
Blood: O Rh+
CMV: +
Ethnicity: Mix, Irish, Japanese, Scottish
Jewish Ancestry: No
Education/Occupation: B.S. Civil Engineering / Student
Live Birth / Pregnancy Confirmed: Yes
Extended Testing: No
Genetically tested for: View
Jasper has a very interesting look as he is half Japanese and half Scottish/Irish. He has a great medium skin tone that tans well. He has large hazel eyes and a great smile. Jasper is very active and loves the outdoors. He has a lithe physique perfect for running and cycling. Jasper wears t shirts and gym shorts.
Laidback and a tiny bit shy are perfect descriptors for Jasper. He is bright and works hard. Jasper is logical and likes to think things through before jumping in. He is very independent and tells it like it is, always remaining true to himself. We asked Jasper about his goals in life and he said, "My ultimate goal is to eventually become a construction engineer and work on designing environmentally friendly houses. I want build sustainable homes in third-world countries so that those people can have adequate homes that are also good for the environment. In twenty years I see myself hopefully married and working for a construction or engineering company on developing eco-friendly houses.