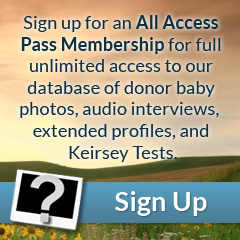 Eyes: Blue/Green
Hair: Light Brown
Height: 6'00"
Weight (lbs): 165
Blood: B Rh+
CMV: -
Ethnicity: Caucasian, Italian, Welsh
Jewish Ancestry: No
Education/Occupation: B.A. Business Management and Marketing / Regional Sales Manager
Live Birth / Pregnancy Confirmed: No
Extended Testing: Yes
Genetically tested for: View
Jeb has thick, wavy, light brown hair, blue/green eyes, and a medium complexion with olive undertones that tans very dark in the summer, which he accredits to his Italian heritage. He has a lean, medium build and is very athletic. Jeb's face is all around incredibly handsome- he has a square jawline, great cheekbones, large eyes, and a large, friendly smile.
Jeb had a very successful collegiate career, graduating with a double major in Business Management and Marketing. Not surprisingly, he has been working his way up the corporate ladder, now serving as a Regional Manager for a major beverage distributor.  Jeb is a huge food and wine enthusiast; some of his other hobbies include wakeboarding, hunting, fishing, and traveling in general. He also comes from a long line of athletes- both his father and his two brothers played college football, and Jeb also participated in football, wrestling, golf, and tennis before becoming more involved in academics. Jeb is a friendly, charismatic, and smart guy, and makes an amazing donor!