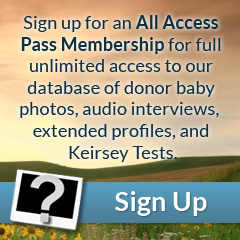 Eyes: Blue
Hair: Blonde
Height: 6'01"
Weight (lbs): 210
Blood: AB Rh+
CMV: +
Ethnicity: Caucasian, German, Italian, Polish
Jewish Ancestry: No
Education/Occupation: B.S. in Zoology, B.A. in Philosophy, M.D. and M.P.H student / Physician
Live Birth / Pregnancy Confirmed: Yes
Extended Testing: No
Genetically tested for: View
Jeremy is an air force veteran, a physician and excellent athlete. There is no doubt that this doctor is very passionate about his studies, and that learning is an instrumental part of his life.  Besides his obvious intellect, he is very athletic and loves to travel.
This handsome donor has very symmetrical facial features, with striking blue eyes.  He is tall with a strong, muscular build.  He dresses in a very professional manner. Jeremy is very polite and easy to work with.  He is a favorite of the staff, as he is very reliable and takes pride in being involved in the program.