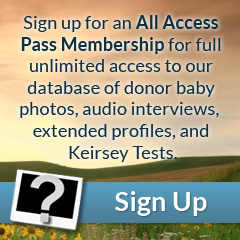 Eyes: Brown
Hair: Black
Height: 5'11"
Weight (lbs): 193
Blood: A Rh+
CMV: +
Ethnicity: Mix, Mexican, Polish
Jewish Ancestry: No
Education/Occupation: B.A. Business / Material Handler Lead/Bellman
Live Birth / Pregnancy Confirmed: Yes
Extended Testing: No
Genetically tested for: View
Joaquin has glowing olive skin set around dark features—silky black hair and dark-brown eyes with long lashes. He has a medium build and keeps in great shape by bicycling everywhere instead of using a car. Joaquin smiles almost all of the time—his eyes light up and his cheeks flush, making his smile one of his best attributes.
Joaquin works harder than most people. His family instilled in him the value of hard work and self-discipline. Joaquin, though serious at times, truly loves to make people laugh. He wants those around him to be happy; in fact, Joaquin has a dream of one day doing stand-up comedy regularly. Lively, vibrant, and outgoing, Joaquin makes for a fabulous donor.