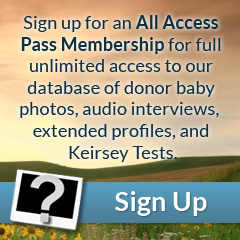 Eyes: Brown/Green
Hair: Dark Brown
Height: 6'02"
Weight (lbs): 170
Blood: A Rh+
CMV: -
Ethnicity: Caucasian, German, Native American
Jewish Ancestry: No
Education/Occupation: B.S. Engineering / Student
Live Birth / Pregnancy Confirmed: No
Extended Testing: Yes
Genetically tested for: View
Johannes has mostly German heritage, and this really comes through in his overall appearance- he has a long, oval face, defined chin, high brow line, strong cheek bones, and piercing, pool-blue eyes. He has a slender-to-average frame with long arms and legs and some defined muscles. He has a medium skin tone with subtle rosy undertones and glossy brown hair.
Like many young men in the Pacific Northwest, Johannes is an outdoors enthusiast and is often hiking, biking, or rock climbing. Advancing his skills and scope in rock climbing is actually one of his primary interests at the moment, as well as focusing on his college education, with a degree in Engineering in full swing. Johannes comes across as slightly shy, but also describes himself as understanding, open-minded, and compassionate. We think he has a fun, adventurous spirit!