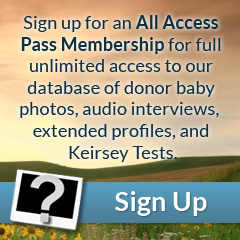 Eyes: Brown
Hair: Brown
Height: 5'08"
Weight (lbs): 145
Blood: O Rh+
CMV: -
Ethnicity: Caucasian, German
Jewish Ancestry: No
Education/Occupation: Ph.D. Candidate - Mathematics / Mathematician
Live Birth / Pregnancy Confirmed: No
Extended Testing: Yes
Genetically tested for: View
Jonah has thick, dark brown, wavy hair and brown eyes; and an oval, well-proportioned face with full lips. He is in fit shape with a medium build. His smile is warm and genuine, complimenting his friendly and sincerely personality.
Most noticeable about Jonah is that he is extremely intelligent and polite. He is driven in his academic pursuits and shows great enthusiasm for teaching and philanthropy. Jonah is a well-rounded individual as not only has he excelled academically, but he also played several sports while growing up and currently stays physically active exploring the outdoors. Jonah keeps close relationships with his family members and is an active member of his community. Jonah is an all-around great guy!