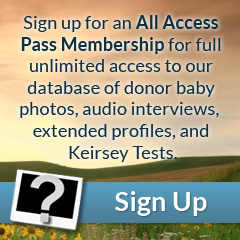 Eyes: Brown/Green
Hair: Brown
Height: 6'05"
Weight (lbs): 185
Blood: O Rh+
CMV: -
Ethnicity: Caucasian, English, German, Scottish
Jewish Ancestry: No
Education/Occupation: MD / Physician Researcher
Live Birth / Pregnancy Confirmed: Yes
Extended Testing: Yes
Genetically tested for: View
Jude is slender and very tall, has long arms and legs, and stays in great shape physically without looking overly athletic. He has an incredibly handsome face- big brown/green eyes, long nose, wide smile, and an attractive, square jaw line. He has fair to medium skin and neatly cut brown hair. His look is always very professional and polished.
Jude has a humble and unassuming attitude while in the office, but happens to be one of the most brilliant and accomplished young donors we have. He had an illustrious academic career, not only earning his M.D., but also an MBA and MS in Biomedical Engineering. He is currently a resident physician and researcher, and somehow still makes time to enjoy pursuing a variety of hobbies and interests, including playing the piano, reading, skiing, long distance running, learning new languages, and traveling. We are more than thrilled to have Jude in our donor program!