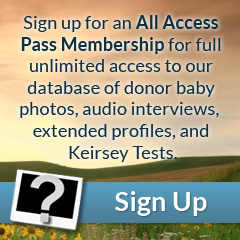 Eyes: Brown/Green
Hair: Brown
Height: 5'11"
Weight (lbs): 175
Blood: O Rh+
CMV: +
Ethnicity: Caucasian, French, Greek, Irish, Italian
Jewish Ancestry: No
Education/Occupation: B.A. Sociology, Environmental Recreation Management / Student, Material Management
Live Birth / Pregnancy Confirmed: Yes
Extended Testing: Yes
Genetically tested for: View
Kade has an average, medium build with strong legs and arms. He has dark brown hair, large, brown eyes, a rounded nose, nice smile, and a handsome square jawline. He has a very pleasant, caring face, and all around is a great looking guy!
Kade's degree in Sociology makes him predisposed to wanting to help and understand people. He is a very friendly, honest, and direct person, and comes across as very intelligent. He also plays guitar, piano, drums, and sings, and is self-professed to be a pretty terrific dancer. He is well traveled and very interested in other cultures, and also served in the ARMY immediately following high school. If you are looking for someone who is motivated, reasonable, and caring, Kade would be a great choice for you!
Genetic Testing
Over the years, we have expanded our genetic testing of donors as genetic knowledge and technology have advanced. As a result, not all donors have been tested for the same conditions or with the same methods. All donors have undergone genetic testing for Cystic Fibrosis, Spinal Muscular Atrophy and Karyotyping.  However, many donors have had more extensive testing performed.
This donor has been evaluated for carrier status of the listed conditions. A negative result reduces, but does not eliminate, the likelihood of the donor being a carrier. If you are a known carrier of a genetic condition please contact us, and we will provide a copy of the donor's test reports to your physician and/or genetic counselor.