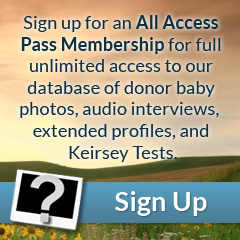 Eyes: Brown
Hair: Black
Height: 5'08"
Weight (lbs): 160
Blood: O Rh+
CMV: -
Ethnicity: Asian, Japanese
Jewish Ancestry: No
Education/Occupation: B.S.Digital Media / Student
Live Birth / Pregnancy Confirmed: Yes
Extended Testing: No
Genetically tested for: View
Kamaji's most outstanding feature is his mouth. He has full light plum colored lips and a cute smile. He has soft rounded features and a creamy complexion. Kamaji has black hair with soft brown eyes. He dresses comfortably in t-shirts and jeans or workout clothes.
Kamaji is very intelligent and is currently pursuing his graduate degree in digital media. He enjoys coding web pages and photography in his free time. Kamaji is best described as an introvert as he likes to participate in solitary activities and can be a bit timid in social situations. He is very loyal and takes pride in everything he does. We asked Kamaji what he thought makes him unique and he said," I feel I have a somewhat unusual repertoire of skills. Everyone is a confluence of different character traits and abilities, of course, but I, for example, was a print journalism major in college and love to write (my "artsy" side)--but I am fiercely anaytical and methodical in mindset, and feel more at home working with numbers and the quantiative than the qualitative. I love sports and am a huge fan of both baseball and basketball, but the sports I actually enjoy doing are largely individual, not team-oriented--weight training and swimming and running. I consider myself introspective and analytical, and  my relationship with sports is that I love to watch it, read about it, and study it in-depth--not necessarily to consume it in social environments like in bars or at watch parties. " Kamaji has a great balance between art and logic which we feel makes him a well rounded individual.