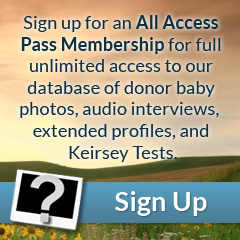 Eyes: Brown
Hair: Black
Height: 6'01"
Weight (lbs): 175
Blood: B Rh+
CMV: -
Ethnicity: African-American
Jewish Ancestry: No
Education/Occupation: B.S. Chemistry / Student
Live Birth / Pregnancy Confirmed: No
Extended Testing: Yes
Genetically tested for: View
Kendrick always walks into our office with a smile on his face and a positive attitude. Standing 6 feet tall with strong shoulders and an athletic build, Kendrick is very attractive. His dark complexion and curly hair, which he keeps styled to the latest trend, suit him very well. His good looks are paired well with a confident and friendly disposition. He has a witty sense of humor and a very kind heart.
Kendrick's real passion is music and with a musical ear, it's easy to see why. He currently splits his time between going to school and working hard on his album. His song-writing ability lends itself to his well-spoken nature and poetic prowess. If you are looking for a smart, musically inclined young man with a good head on his shoulders, Kendrick may be the donor for you.