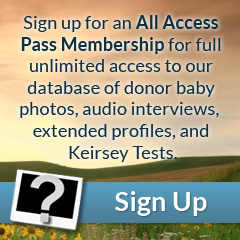 Eyes: Blue/Green
Hair: Light Brown
Height: 5'11"
Weight (lbs): 160
Blood: O Rh+
CMV: -
Ethnicity: Caucasian, Danish, English, French, German, Irish, Scandinavian
Jewish Ancestry: No
Education/Occupation: BA Marketing / Student
Live Birth / Pregnancy Confirmed: No
Extended Testing: Yes
Genetically tested for: View
Kent has a slender, yet athletic build, which he maintains with regular visits to the gym. He has very expressive green/blue eyes, light brown hair that he keeps short, and a medium skin tone which tans easily. He keeps his face clean shaven, which shows off his cute dimples, and great teeth (which are always on display, because Kent is always smiling and laughing). All these features give Kent the quintessential "boy next door" look.
Kent is an intelligent and dedicated young man, which led him to maintaining a fulltime job while also exceling in school as he pursues a degree in Marketing.  He has an affinity for math and numbers. Kent is incredibly personable, sweet, and happy-go-lucky guy, and we think he is a terrific donor!