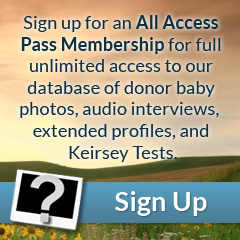 Eyes: Green
Hair: Light Brown
Height: 5'05"
Weight (lbs): 150
Blood: A Rh+
CMV: +
Ethnicity: Caucasian, English, French, French-Canadian, Irish, Swiss
Jewish Ancestry: No
Education/Occupation: BS Communications & Business / Business Development
Live Birth / Pregnancy Confirmed: Yes
Extended Testing: No
Genetically tested for: View
Kermit is incredibly adorable and fun-loving. He is guaranteed to put a smile on our faces when we get the opportunity to talk with him. He is very outgoing, open, and amiable. He is also intelligent, witty, and comical. Kermit has a medium skin tone with a natural tan. He has light brown hair accompanied by a gentle touch of natural highlights and sparkling green eyes. He dresses well in polo shirts and jeans.
Kermit is in business development and obtained his degrees in Business and Communication. He is successful and a great entrepreneur.  Kermit keeps in shape with cardio exercise and loves to be in the outdoors. He is an identical twin and is very close to his family, speaking with his immediate family members on a daily basis! When we asked Kermit why he wanted to be a donor he said, "I want to be a donor because I believe everyone should have the right to create life if able to do so responsibly. I believe I have unique traits and genes that others could benefit from." We highly recommend this donor!