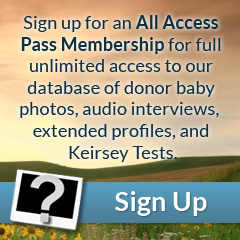 Eyes: Blue/Green
Hair: Brown
Height: 6'02"
Weight (lbs): 182
Blood: A Rh+
CMV: +
Ethnicity: British, Caucasian, French, Irish, Swedish
Jewish Ancestry: No
Education/Occupation: B.S. Biochemistry / Student
Live Birth / Pregnancy Confirmed: Yes
Extended Testing: No
Genetically tested for: View
Kingsly is absolutely handsome. His emerald-green eyes and chocolate-brown hair contrast perfectly with his smooth, fair skin. His eyebrows are thick and neatly separated. He has full red lips, a square face, and a nicely defined chin. Kingsly also keeps physically fit through regular exercise and a fast metabolism.
Kingsly takes his studies seriously, and he has a goal of one day being a medical doctor. He loves his family, basketball, spicy Mexican food, and the beautiful scenery of the Pacific Northwest. Although Kingsly considers himself an introvert, he is very sociable and enjoys the friendships he has formed throughout his years. Kingsly would make an excellent donor for any family.