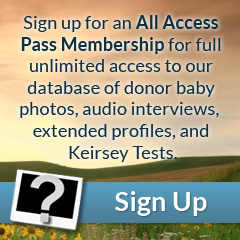 Eyes: Blue
Hair: Dark Brown
Height: 5'10"
Weight (lbs): 155
Blood: O Rh+
CMV: -
Ethnicity: Mix, Caucasian, English, French, German, Panamanian
Jewish Ancestry: No
Education/Occupation: B.S. Finance / Student
Live Birth / Pregnancy Confirmed: No
Extended Testing: No
Genetically tested for: View
Kipling's unique ethnicity shows through in his interesting and handsome looks. He has a gorgeous olive skin tone that can tan to a medium bronze. He wears his thick wavy hair cropped short. Kipling has friendly blue/green eyes that stand out against his dark complexion. He has a lovely smile and straight teeth. Kipling dresses in a mix of business professional and casual; blazers, sweater vests, and ties are very commonplace for him!
Kipling enjoys tennis and lifting weights. He plans on running his own finance and investment firm within twenty years and is very driven to complete his goal. Kipling is very laid back and easy to get along with. We asked Kipling what he was most proud of and he said, "I'm most proud of going to college to get a degree in finance. College has been the main goal of mine since I was a child. Now that I'm finally here and getting close to graduating just coming this far has to be what I'm proudest of. College education has meant so much to me and I'll be the happiest person on Earth when I get my diploma in June." Kipling is a hard working and sweet individual!