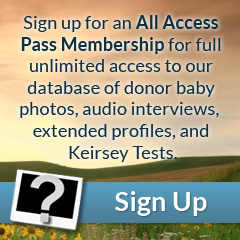 Eyes: Green
Hair: Strawberry Blonde
Height: 6'04"
Weight (lbs): 235
Blood: O Rh+
CMV: -
Ethnicity: Caucasian, Czech, English, Irish, Italian, Polish, Scottish
Jewish Ancestry: No
Education/Occupation: Masters Computer Science / Data Scientist
Live Birth / Pregnancy Confirmed: Yes
Extended Testing: Yes
Genetically tested for: View
Kirk's thick wavy strawberry blonde hair is kept long. He has a full beard that he keeps nicely groomed and professional. His fair complexion and light dusting of freckles across his nose complete his charming look. Kirk has a sturdy build with broad shoulders and defined chest. He has long arms and legs that suit his tall 6'4" frame.
Kirk is extremely smart with a background in computer science and strong mathematical skills. He is very handy around the house and can pretty much fix anything that is put in front of him. Kirk can come off a bit shy at first but opens up in the right situations. Kirk is a family man with a big heart and kind demeanor. He would make a great choice for any family!
Genetic Testing
Over the years, we have expanded our genetic testing of donors as genetic knowledge and technology have advanced. As a result, not all donors have been tested for the same conditions or with the same methods. All donors have undergone genetic testing for Cystic Fibrosis, Spinal Muscular Atrophy and Karyotyping.  However, many donors have had more extensive testing performed.
This donor has been evaluated for carrier status of the listed conditions. A negative result reduces, but does not eliminate, the likelihood of the donor being a carrier. If you are a known carrier of a genetic condition please contact us, and we will provide a copy of the donor's test reports to your physician and/or genetic counselor.