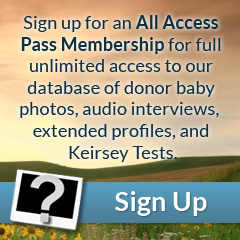 Eyes: Brown/Green
Hair: Dark Brown
Height: 5'08"
Weight (lbs): 130
Blood: A Rh+
CMV: -
Ethnicity: Caucasian, English, German, Irish
Jewish Ancestry: No
Education/Occupation: B.A. Psychology and Education / Student
Live Birth / Pregnancy Confirmed: No
Extended Testing: Yes
Genetically tested for: View
Kristopher immediately stands out from the crowd with his huge smile, kind eyes, and enthusiastic disposition. His friendly and gentle personality makes it you feel as if you instantly know him! Kristopher has a fair clear complexion with a nice array of freckles spattered across his nose. He has thick, dark brown hair and green/brown eyes, with high cheekbones and a strong, square jawline.
Kristopher is a natural artist and performer. With a diverse creative ability in writing, singing, acting, and art, Kristopher's talents are truly something to be envious of! He also spends his spare time hiking, traveling, cooking and reading as much as he can. Kristopher is an intellectual, loyal, and genuine person, and we are pleased to have in our program.