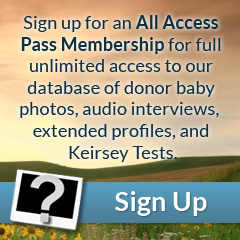 Eyes: Brown
Hair: Dark Brown
Height: 6'01"
Weight (lbs): 215
Blood: A Rh+
CMV: +
Ethnicity: Caucasian, English, Irish, Native American
Jewish Ancestry: No
Education/Occupation: B.S. Information Systems / Campus safety
Live Birth / Pregnancy Confirmed: No
Extended Testing: Yes
Genetically tested for: View
Larry is very muscular, a result of his regular cardio and weight lifting exercise regime. He has large, dark brown eyes and brown hair that is straight and thick. Larry has a round face with a masculine jaw line and bright smile. Larry usually has a 5 o'clock shadow or a full beard that, coupled with his light olive skin tone, gives him a ruggedly handsome look.
Larry is laid back and spontaneous. He has a love for all things sports, is extremely athletic and willing to play just about any sport. He has a wonderful personality and commanding presence. Larry is adventurous with a great sense of humor making him a great travel partner and wonderful donor.