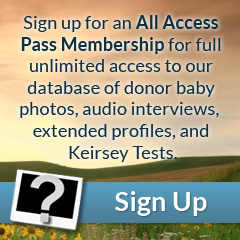 Eyes: Brown
Hair: Dark Brown
Height: 6'01"
Weight (lbs): 215
Blood: A Rh+
CMV: +
Ethnicity: Caucasian, English, Irish, Native American
Jewish Ancestry: No
Education/Occupation: B.S. Information Systems / Campus safety
Live Birth / Pregnancy Confirmed: No
Extended Testing: Yes
Genetically tested for: View
Larry is very muscular, a result of his regular cardio and weight lifting exercise regime. He has large, dark brown eyes and brown hair that is straight and thick. Larry has a round face with a masculine jaw line and bright smile. Larry usually has a 5 o'clock shadow or a full beard that, coupled with his light olive skin tone, gives him a ruggedly handsome look.
Larry is laid back and spontaneous. He has a love for all things sports, is extremely athletic and willing to play just about any sport. He has a wonderful personality and commanding presence. Larry is adventurous with a great sense of humor making him a great travel partner and wonderful donor.
Genetic Testing
Over the years, we have expanded our genetic testing of donors as genetic knowledge and technology have advanced. As a result, not all donors have been tested for the same conditions or with the same methods. All donors have undergone genetic testing for Cystic Fibrosis, Spinal Muscular Atrophy and Karyotyping.  However, many donors have had more extensive testing performed.
This donor has been evaluated for carrier status of the listed conditions. A negative result reduces, but does not eliminate, the likelihood of the donor being a carrier. If you are a known carrier of a genetic condition please contact us, and we will provide a copy of the donor's test reports to your physician and/or genetic counselor.
Since this donor is a carrier for 1 or more conditions, we require that you and your care provider fill out the Informed Consent document found HERE