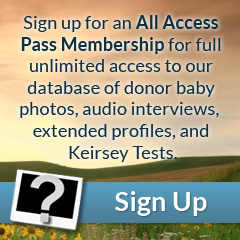 Eyes: Brown
Hair: Black
Height: 5'10"
Weight (lbs): 180
Blood: B Rh+
CMV: -
Ethnicity: Asian, Chinese
Jewish Ancestry: No
Education/Occupation: B.S. Biochemistry, Medical School / M.D. Resident
Live Birth / Pregnancy Confirmed: Yes
Extended Testing: No
Genetically tested for: View
Ledger's big, bright smile is the first thing I notice when I see him. Indeed, it lights up his whole face. He's got full pink lips and white teeth. He keeps his full head of black hair short and neat. Ledger's eyebrows are dark, of medium thickness, and nicely separated. His skin is smooth and light but tans in the summer. Standing at just six feet, Ledger is truly attractive.
Ledger maintains a strong work ethic and admits that he pushes himself too hard at times. To combat this pressure he has turned to meditation, reading, and playing the guitar. He values family, being especially close to his younger brother. A thoughtful, down-to-earth human being, Ledger would make a great donor for any family. Speaking about himself, Ledger has this to say: My mistakes are learning opportunities, and I readily acknowledge my flaws. I am quick to apologize, and take it to heart when I hurt those I care for.