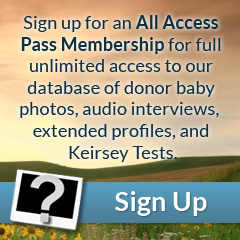 Eyes: Brown
Hair: Dark Brown
Height: 5'07"
Weight (lbs): 165
Blood: B Rh+
CMV: -
Ethnicity: Mix, Austrian, Guatemalan, Hispanic, Irish
Jewish Ancestry: No
Education/Occupation: PhD, Clinical Psychology / Clinical Psychologist
Live Birth / Pregnancy Confirmed: No
Extended Testing: Yes
Genetically tested for: View
Leo's happy smile and positive attitude can brighten your day. He has a medium complexion that tans nicely in the sun. Leo keeps his head shaved and his facial hair clean and professional. He has strong shoulders and a broad chest. He keeps in shape with an active lifestyle outdoors that includes hiking, swimming, and snowboarding.
With a PhD in Clinical Psychology and his fluency in Spanish, English, and French, Leo is a well-spoken, eloquent man.  Leo's personality is friendly and charming. He spends his spare time collecting art as well as writing and reading poetry. Leo enjoys travel and has visited many countries. He has a great appreciation for his family, and credits their love and support for helping him become the man he is today.