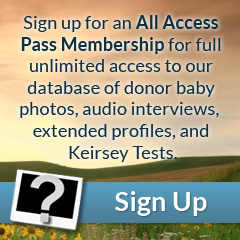 Eyes: Blue
Hair: Blonde
Height: 6'06"
Weight (lbs): 230
Blood: O Rh+
CMV: -
Ethnicity: Caucasian, Dutch, German, Norwegian
Jewish Ancestry: No
Education/Occupation: B.S. Biochemistry/Pre-Med / Student Athlete
Live Birth / Pregnancy Confirmed: Yes
Extended Testing: No
Genetically tested for: View
London has almond-shaped blue eyes and a playful, friendly smile. His lips are light-pink and his teeth straight and white. His complexion is smooth and his skin color is medium, not quite olive. London is very tall, standing over six feet, with a strong, lean, athletic build.
London is great at math and loves staying active through sports such as skiing, basketball, and, when weather permits, fishing. He considers himself to be an open-minded, accepting person. He is kind, gentle, and an overall good human being. London would make a fantastic donor for any family.