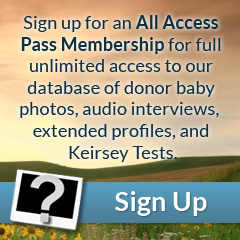 Eyes: Green
Hair: Light Brown
Height: 5'10"
Weight (lbs): 175
Blood: O Rh+
CMV: +
Ethnicity: Caucasian, Irish, Lithuanian
Jewish Ancestry: No
Education/Occupation: B.S. Engineering / Student
Live Birth / Pregnancy Confirmed: Yes
Extended Testing: No
Genetically tested for: View
Lonnie has a very youthful appearance and attitude. He has thick wavy brown hair and fair skin. He has full light pink lips and a boyish smile. He has a round face with soft features. Lonnie has a wrestlers build and is quite strong and athletic.
Lonnie is very energetic and enthusiastic about everything he does. He describes himself as a nerd and enjoys playing games including table top games. He is an honest and genuine person, which is something he finds very unique about himself. We asked Lonnie what he was the most proud of and he said, "I am most proud of who I have become as a person. When I think about it, I realize that there isn't one thing that makes me most proud, but overall I am happy with who I am, what I stand for, and what I believe in."