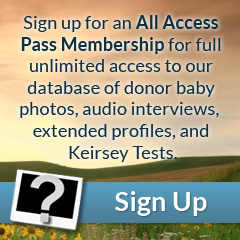 Eyes: Brown
Hair: Light Brown
Height: 6'00"
Weight (lbs): 140
Blood: O Rh-
CMV: -
Ethnicity: English, Irish, Scottish, Welsh
Jewish Ancestry: No
Education/Occupation: B.A. Science, Technology, and Society / Naturalist Tour Guide
Live Birth / Pregnancy Confirmed: Yes
Extended Testing: No
Genetically tested for: View
Lukas has chestnut-brown hair and dark eyes that are shaped like half circles. His skin tone is on the lighter side of medium, and his skin handles sun very nicely. His face is oval with a defined chin and jawline. His nose is straight and centered. Lukas has a lean but sturdy frame, as he loves staying physically active all day every day.
Lukas absolutely loves the outdoors, an appreciation of nature he inherited from his immediate family. He hikes for a living and is always ready to try something new—new mountains to climb, new trails to hike, new places to see. Lukas is a true critical thinker, always observing the world around him and taking each detail into account. Lukas embodies all of the great qualities a family could want in a donor.