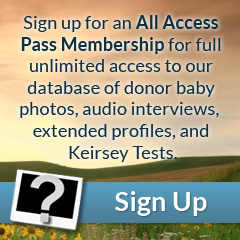 Eyes: Brown
Hair: Dark Brown
Height: 6'03"
Weight (lbs): 195
Blood: B Rh+
CMV: +
Ethnicity: Mix, East Indian, English, German, Italian, Russian
Jewish Ancestry: No
Education/Occupation: Medical School / Med Student
Live Birth / Pregnancy Confirmed: No
Extended Testing: Yes
Genetically tested for: View
Luke is an attractive donor who is tall and slim with dark brown hair and eyes and light olive skin. He has an oval, clean shaven, face and nice smile that shows off his nice, straight, teeth.
Luke's parents, both college professors, instilled in him a love of learning that fueled his desire to pursue medical school. His kind, gentle, demeanor that puts those around him at ease will surely be beneficial to him as a physician. When not busy with his studies he likes to rock climb and skiing. We are excited to be able to offer such a bright donor with a wonderful personality to boot.