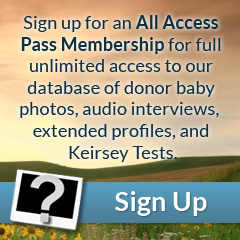 Eyes: Brown/Green
Hair: Brown
Height: 5'08"
Weight (lbs): 150
Blood: A Rh+
CMV: -
Ethnicity: Caucasian, Irish, Swedish
Jewish Ancestry: No
Education/Occupation: B.A. Economics, MBA Business Management / Marketing Executive
Live Birth / Pregnancy Confirmed: Yes
Extended Testing: No
Genetically tested for: View
Lydell's smile lights up a room and reveals a perfect set of white teeth. His skin is light but his cheeks often show a rosy hue. Lydell stands at five feet, eight inches, and keeps himself in impeccable shape through daily exercise. His brown hair meshes very well with his green-blue eyes.
A lover of all things outdoors, Lydell is always hiking, kayaking, or sailing. He is highly intelligent, having earned an MBA degree and now driving a successful career in the technology industry. Lydell has a big heart, also, and cherishes his family and those close to him. When asked why he wants to be a donor, Lydell answered, "I want to help good people achieve their dream of starting or enlarging their family." He would make a truly great donor for any family.