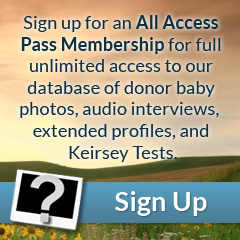 Eyes: Blue/Green
Hair: Dark Brown
Height: 5'10"
Weight (lbs): 162
Blood: O Rh+
CMV: -
Ethnicity: Caucasian, Irish, Scottish, Swedish
Jewish Ancestry: No
Education/Occupation: B.S. Sociology, Psychology minor / Student
Live Birth / Pregnancy Confirmed: Yes
Extended Testing: No
Genetically tested for: View
We love this donor because he is a true philanthropist.  He has arranged to volunteer overseas and is very excited about this opportunity.  He loves to involve the staff in his volunteering process and his exuberance is contagious to us all.
This charming donor always has a sparkle in his kind green/blue eyes.  He has masculine facial features with a slender build.  He is a very considerate individual with a warm and caring presence.  He is very attentive to the staff, and is a great person for us to work with.