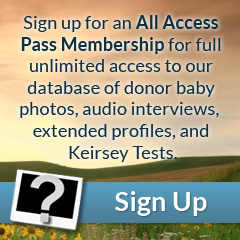 Eyes: Blue/Green
Hair: Light Brown
Height: 5'08"
Weight (lbs): 190
Blood: A Rh+
CMV: +
Ethnicity: Caucasian, Finnish, Irish, Welsh
Jewish Ancestry: No
Education/Occupation: High School/Military Engineer / Teacher/Diving Instructor/Combat Medic
Live Birth / Pregnancy Confirmed: Yes
Extended Testing: No
Genetically tested for: View
McKenna is definitely a man's man and the strong silent type. He is very active and loves all types of sports including soccer and ju jitsu. He has straight light brown hair and blue green eyes. McKenna has fair skin but can tan a bit. He is typically dressed in rugged work clothes like carpenters pants and heavy jackets.
McKenna has spent several years in the U.S. Army and is currently in the National Guard. He is a combat medic and a scuba diving instructor. McKenna has a strong will and work ethic. He is very loyal and logical. McKenna is well traveled, and not just from the military. We asked McKenna why he wanted to be a donor and he said, "I want to be a donor because I have been lucky enough to have my own daughter and that has been the most amazing thing that has ever happened to me. Its such a life-changing event that can be trying at times but those moments are so worth the joy that comes from watching your child develop and thrive.  Everyone should be afforded the opportunity to have that joy in life. So, if there is something I can do to help people having difficulties (ie. donating sperm) then I feel like I can make someones life better." McKenna is a great person and we think he is a wonderful donor choice!