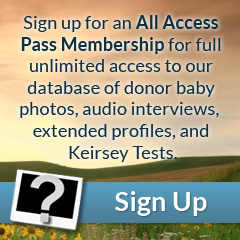 Eyes: Brown
Hair: Dark Brown
Height: 5'10"
Weight (lbs): 150
Blood: B Rh+
CMV: +
Ethnicity: Mix, Asian, Chinese, Dutch, German, Singaporean, Swiss, Welsh
Jewish Ancestry: No
Education/Occupation: M.A. International Affairs / IT Consultant
Live Birth / Pregnancy Confirmed: No
Extended Testing: No
Genetically tested for: View
Merlin is curious and fresh-faced. His clear, fair skin accentuates his high and defined cheek bones. He has dark-brown, almond-shaped eyes that are always observing their surroundings. He keeps his black hair short and neat, adding to his boyish good looks. He always dresses nicely, always looks put-together. Merlin ages very well, looking several years younger than he is.
Merlin speaks multiple languages and has traveled all over Asia and then some. He is incredibly aware of his surroundings, but he is also incredibly aware of how much he still wants to learn about the world and different cultures. He often says, "The more I travel the less I know." Merlin is intellectual, social, quiet and introspective at times, and very loving. He values family and more than anything loves being with his wife and toddler daughter.