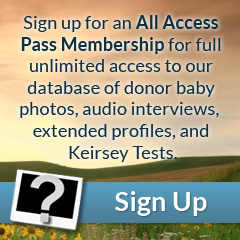 Eyes: Brown
Hair: Dark Brown
Height: 6'03"
Weight (lbs): 175
Blood: O Rh+
CMV: +
Ethnicity: Mix, Irish, Japanese, Welsh
Jewish Ancestry: No
Education/Occupation: M.S. Aerospace Engineering / Student, Graduate Research Assistant
Live Birth / Pregnancy Confirmed: No
Donor Description
Micah is handsome, tall, and lean, with broad shoulders and long limbs. He has thick, wavy, dark brown hair that he wears long in a ponytail. His face is oval with a medium-sized nose, a big smile, and a dimple on his left cheek. His bold, large dark brown eyes are his most notable feature.
Micah is kind and has an outgoing, bubbly, personality, but he also makes a priority to take time for quiet and reflection. He is very mature and has an admirable amount of self-awareness. Micah keeps a calm and optimistic mood even when his demanding Engineering course load keeps him busy focusing on assignments and studying for exams. He is very athletic and enjoys sports such as swimming, running, cycling, rowing, and weightlifting. Other areas of interest include cooking, travel, and time out in nature.
Mike is a unique donor with considerable intelligence and a distinctive, bright, personality.