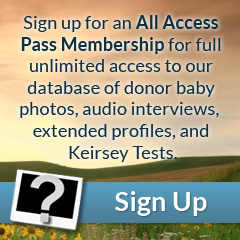 Eyes: Brown
Hair: Black
Height: 5'11"
Weight (lbs): 180
Blood: A Rh+
CMV: -
Ethnicity: Mix, African-American, Italian
Jewish Ancestry: No
Education/Occupation: A.A. Liberal Arts / Brick Mason
Live Birth / Pregnancy Confirmed: Yes
Extended Testing: Yes
Genetically tested for: View
Midas Staff Impression
Midas is one of the most handsome donors in our program. His facial features are very striking, with a square face shape, high cheekbones, large, soulful brown eyes, and an amazingly bright smile. He has a glowing complexion and a smooth, medium African American skin tone. Midas is very physically active and is in amazing shape, particularly in his arms, shoulders, and chest.
Midas has an incredibly engaging personality. He comes across as warm, open, funny, and thoughtful. He comes from a close-knit family and easily makes and keeps close friends. His hobbies and interests include cooking, traveling, mountain biking, hiking, and playing basically any sport outdoors. Midas is an all-around great donor. If you are looking for someone genuine, interesting, and athletic, Midas would be a great choice for you!
Genetic Testing
Over the years, we have expanded our genetic testing of donors as genetic knowledge and technology have advanced. As a result, not all donors have been tested for the same conditions or with the same methods. All donors have undergone genetic testing for Cystic Fibrosis, Spinal Muscular Atrophy and Karyotyping.  However, many donors have had more extensive testing performed.
This donor has been evaluated for carrier status of the listed conditions. A negative result reduces, but does not eliminate, the likelihood of the donor being a carrier. If you are a known carrier of a genetic condition please contact us, and we will provide a copy of the donor's test reports to your physician and/or genetic counselor.