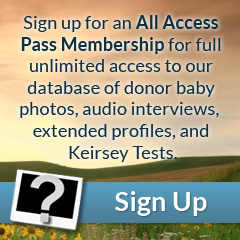 Eyes: Brown/Green
Hair: Dark Brown
Height: 5'11"
Weight (lbs): 180
Blood: O Rh+
CMV: +
Ethnicity: German, Scottish, Spanish
Jewish Ancestry: No
Education/Occupation: B.S. Environmental Science, Astronomy / Student
Live Birth / Pregnancy Confirmed: No
Extended Testing: No
Genetically tested for: View
Mitchell has broad shoulders and is in good shape. For exercise, he prefers cycling; for both fun and work. He has dark brown hair that matches his dark brown beard, both of which are kept neatly trimmed and complement his green/brown eyes. Mitchell has a clear complexion and a cute smile that displays straight white teeth. All these attributes make Mitchell an attractive individual.
Mitchell is an intelligent and insightful donor with a great sense of humor. He has an incredible self-awareness and respect for all living things that is reflected in his love for nature and space. He is also musical, having learned various musical instruments when he was younger. Mitchell comes from a close family and when asked why he wants to be a donor, he answered, "Within my family, one of my siblings was unable to bear children on her own accord. She opted for IVF and now has two wonderful children. I have seen first-hand how much joy it can bring to a person; and if I have the ability to help bring that happiness to someone else, how pompous would I be to refuse that." Mitchell is a truly thoughtful and open-minded donor.