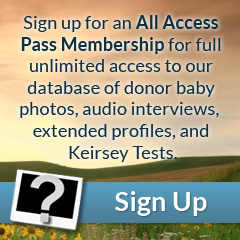 Eyes: Brown
Hair: Brown
Height: 5'07"
Weight (lbs): 160
Blood: A Rh+
CMV: -
Ethnicity: Caucasian, German, Irish, Swedish
Jewish Ancestry: No
Education/Occupation: A.A. Culinary Arts / Building Engineer
Live Birth / Pregnancy Confirmed: Yes
Extended Testing: No
Genetically tested for: View
Montana has a very sweet-looking face, which suits him well, as he is a genuinely good person. All of his facial features are symmetrical, and his nose is perfectly straight and centered on his face. Montana's light-brown eyes are kind but let you know when he is thinking about something. He keeps his brown hair short and neat, which compliments his fair skin wonderfully.
Montana is a truly humble person with a large capacity for caring about those around him. He is quiet but inquisitive, and when he opens up it is always well-received, as he loves making people laugh and also making people feel comfortable. He enjoys fishing, watching American football, and spending time with his immediate family. An all-around good person, Montana would make a fabulous donor for any family.