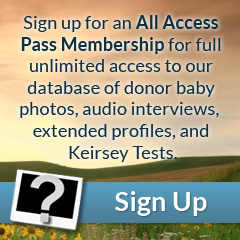 Eyes: Brown
Hair: Black
Height: 6'02"
Weight (lbs): 185
Blood: O Rh+
CMV: -
Ethnicity: Mix, Anglo-Saxon, Asian, Caucasian, French, German, Singaporean
Jewish Ancestry: No
Education/Occupation: B.S. Computer Science / Software Developer
Live Birth / Pregnancy Confirmed: No
Donor Description
Myron is tall, handsome, athletic, and intelligent. He has tan skin, glossy hair, and a rectangular face with a strong jawline and square chin. He has youthful facial features with large eyes, full brows, and a well-proportioned nose with a rounded tip. He is exceptionally fit with well-developed muscles and a lean build.
Myron is outgoing, talkative, enthusiastic, and high energy. He loves his career as a software developer at a large tech company doing research and developing new technologies.  Outside of work he lives a very active life with athletic hobbies. He swims outdoors daily regardless of weather, and he hikes, runs trails, rock climbs, and kayaks frequently.
Myron has a fantastic, loving relationship with his equally impressive family. He is proud of his parents' and siblings' accomplishments. He is excited to be able to help others have children of their own and hopefully pass on the family traits he is most proud of.